[av_video src='http://firstladyfilm.dk/wp-content/uploads/2014/06/NORDIC+FACTORY+trailer-SD.mp4′ format='16-9′ width='16' height='9′]
[av_textblock]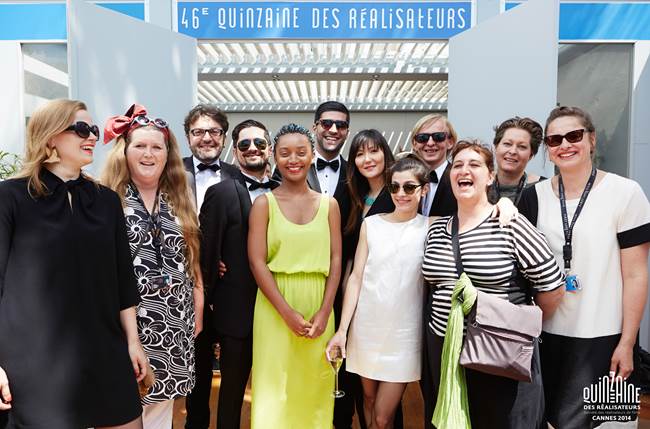 The directors and producers are (left to right) Selma Vilhunen (Finland), producer Helene Granqvist (Sweden), Guillaume Mainguet (France), Hamy Ramezan (Finland), Rungano Nyoni (Zambia), Milad Alami (Denmark), Aygul Bakanova (Kyrgyzstan), Natalia Garagiola (Argentina), Kræsten Kusk (Denmark), producer Domnique Welinski (France), producer Valeria Richter (Denmark) and producer Nynne Selin Eidnes (Denmark).
Milad Alami and Aygul Bakanova have written and directed VOID, starring Lars Mikkelsen and Dar Salim, while Kræsten Kusk and Natalia Garagiola have written and directed SUNDAYS, starring Signe Egholm Olsen and Stig Hoffmeyer. Selma Vilhunen has written and directed THE GIRL AND THE DOGS in collaboration with Guillaume Mainguet, while Hamy Ramezan wrote and directed LISTEN in collaboration withRungano Nyoni.
"The Factory idea is all about creating a creative space for new director's talent, focusing on their creating a story, writing and filming it – while learning something essential and universal about collaboration with other talent from all over the world in the process", says producer Helene Granqvist. "Nordic Factory has been a tremendous success for all involved, and we have witnessed the creation of four personal contemporary films, showcasing the human intensity of a young Kieslowski or Bergman in comparison," adds the project's other producer, Valeria Richter.
Nordic Factory 2014 is a collaboration between Dodream, Pebble and the Directors' Fortnight/ Cannes Film Festival, supported by New Danish Screen/The Danish Film Institute, The Finnish Film Foundation and is produced by Valeria Richter and Helene Granqvist, while Copenhagen Film Fund, Mainstream, Red Rental, Larsen VFX and FilmGEAR are coproducers and essential, active local co-investors in the project.
For further information, screening opportunity or interviews, please contact
PRODUCERS
HELENE GRANQVIST,
SE +46 705 132141,
VALERIA RICHTER
DK +45 2613 3725
PR-PRESS
CLAUS DE LA PORTE
DK + 45 4062 4883
dont@paniq.com
[/av_textblock]