[av_two_third first]
[av_codeblock wrapper_element=" wrapper_element_attributes="]

[/av_codeblock]
[/av_two_third]
[av_one_third]
[av_textblock size=" font_color=" color="]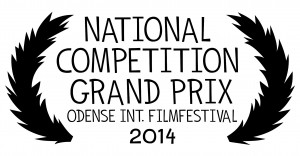 and
SPECIAL MENTION (Animation competition)
At Odense International Film Festival 2014
[/av_textblock]
[/av_one_third]
[av_two_third first]
[av_textblock size=" font_color=" color="]
SYNOPSIS
Fabian is a shy, introverted teenager who lives with his bossy and prudish mother. Fabians world gets turned upside down when he meets the fun and cool Felicia and they fall in love. But there's one small problem… Whenever Fabian gets horny – he turns into a werewolf.
GROWING PAINS is a twisted coming of age story about a young man who has to discover and accept who he really is.
Follow us on www.growingpains.dk for more information
[/av_textblock]
[/av_two_third]
[av_one_half first]
[av_textblock size=" font_color=" color="]
Reviews:
(…) Watching stuff like this reminds me how Lars Von Trier put Denmark on the map, because his spirit is certainly felt; one close-up in particular will have all the men in the audience heave a collecting sigh of relief that this is, after all, just a cartoon. (…) Growing Pains is much, much more than just a cartoon."

Nik Grozdanovic from Way too Indie

(…) It's a very funny and poignant coming-of-age story with twisted sensibilities, one that everyone watching can relate to on both sides of the coin. The short may be animated—brilliantly too I might add with what appear to be sets constructed out of paper for the cartoon characters to walk through—but that doesn't mean watching a dog's testicles get snipped is any easier to watch. While that may be the most jarring scene, don't think it's necessarily as far as Fruergaard and Thomsen will go. They are fearless in taking their parable to the extreme. (…)

Jared Mobarak from The Film Stage

(…) This fun coming of age story is the best of program 2, and feature some excellent animation and a very fun and engaging story. Fabian ultimately rides off into the sunset with the object of his desire, but not before a decision nearly changes everything for the worse.

Kirk Haviland from Dork Shelf
[/av_textblock]
[/av_one_half]
[av_one_half]
[av_textblock size=" font_color=" color="]
2014 National Competition Grand Prix
Here is a film with a strong awareness of film language. We all know the subject matter well, but in this film we see it with new eyes. Here is vital story-telling – often rough; never trivial; and clearly made with brilliant craftsmanship. We were absolutely captivated by it, and by its ability to make us wonder at every turn. It is a film that keeps us on our toes. The jury wouldn't change a thing about it – nothing could have been done differently, even if we never saw it coming.
Animation Special Mention
A fresh, daring and touching variation on the timeless coming-of-age narrative, the recipient of Special Mention combines elements of horror, classic storytelling and young desire in a cocktail that almost certainly will find and charm a large audience. Playful animation combines hand drawings with a stylized cardboard-stop motion look which highlights both romantic and eerie atmospheres – Growing Pains (Vokseværk) demonstrates that Tor Fruergaard is no longer merely a promising talent; he is a skillful filmmaker on his way to big achievement.
[/av_textblock]
[/av_one_half]
[av_two_third first]
[av_textblock size=" font_color=" color="]
[/av_textblock]
[/av_two_third][av_one_third]
[av_textblock size=" font_color=" color="]
Credits:
Director: Tor Fruergaard
Scriptwriter: Sissel Dalsgaard Thomsen
Producer: Nynne Selin Eidnes
Line Producer: Hope Devlin Kristiansen
Animator: Luca Fattore
Animator: Stine Marie Buhl
Animator: Esben Modvig
Voice Actor: Elliott Crosset Hove
Voice Actor: Amalie Lindegaard
Voice Actor: Iben Hjejle
Cinematography: Anders Nydam
Production design: Liselotte Justesen
Editor: Rikke Selin Lorentzen
Sound design: Jess Wolfsberg
Composer Kristian Selin Eidnes Andersen
Compositor: Andreas Severin Kristensen
Paint and Animation: Drude Mangaard
Prop Maker & Animation: Signe Theisen Schmidt
Model Maker: Astrid Mie Refstrup
Model Maker: Benjamin Buch-Andersen
Set Carpenter: Monica Odheim Nielsen
Beatboarder: Mads Themberg
Character Designer: Jan Solheim
Character Turnarrounds: Christian Kuntz
Set Designer: Lawrence Marvit
Set Decoration Forest: Charlotte Worsaae
Storyboard: Tor Fruergaard
Story Artist: Ercan Bozdogan
Story Artist: David Adam
Story Artist: Sune Elskær
Story Artist: Mads Themberg
Color Artist: Susanne Baekby Olesen
[/av_textblock]
[/av_one_third][av_textblock size=" font_color=" color="]
Click here to add your own text
[/av_textblock]